InSpace's whole session recording feature allows hosts and co-hosts to record the entire session from their point of view as they move through the space.
Start an InSpace recording:
Start an InSpace session. Recording is available in single spaces, the Auditorium, and the Conference Space.

Click the record button on the host toolbar on the left hand side.

A notification will appear, prompting the host to select the InSpace browser tab to record. Hosts can also choose to create a transcript of their video recording in this window.

A browser popup appears. Users should select the browser tab labeled 'Select this for recording'. This is necessary because it tells the web browser which tab to 'Share' with the InSpace recording feature.
After clicking 'Share', all participants will see a notification that recording has begun.
While recording a session:
Whole Session Recording is available with Chrome, Edge and Brave Browsers.

Everything the host hears and sees will be recorded, with the ability to Pause and Resume the recording.

Multiple hosts can record simultaneously during a session.

Hosts can record in all room configurations (Discussion Room, Presentation Room, Breakout Rooms, No Rooms) and can change the layout anytime during the recording session.

Note: In Firefox, recording is supported only in the discussion and presentation rooms.
Stop an InSpace recording:
Click the recording button again in the host menu.

In the popup window, press the square 'stop' button.

A new popup will appear. Rename the recording if needed, then select 'Stop and save'.

Once recording ends, a notification on your screen indicates that the recording has been saved to the host's InSpace dashboard.

Note: Videos take approximately 1 hour to process before they are available for viewing and downloading.
Manage InSpace recordings:
Video recordings created by the user can be accessed from the InSpace Dashboard. Video recordings created by the user can be downloaded as well as shared by email or a public web link. Video recordings shared with the user are available for download.
Sign in to your InSpace dashboard at

inspace.chat

Click "Video Recordings" from the menu

Sort videos by All, My Recordings, or Shared With Me from the top menu

Select the video you would like to share.

Click on the Share icon

Enter the email address of people with whom you would like to share the video.

Select the download button to save the video and/or transcript file(s) to your computer

Click "Enable" next to Public Sharing Disabled text to generate a unique URL

Copy the URL to share

Users can also delete their own recordings by clicking the trashcan icon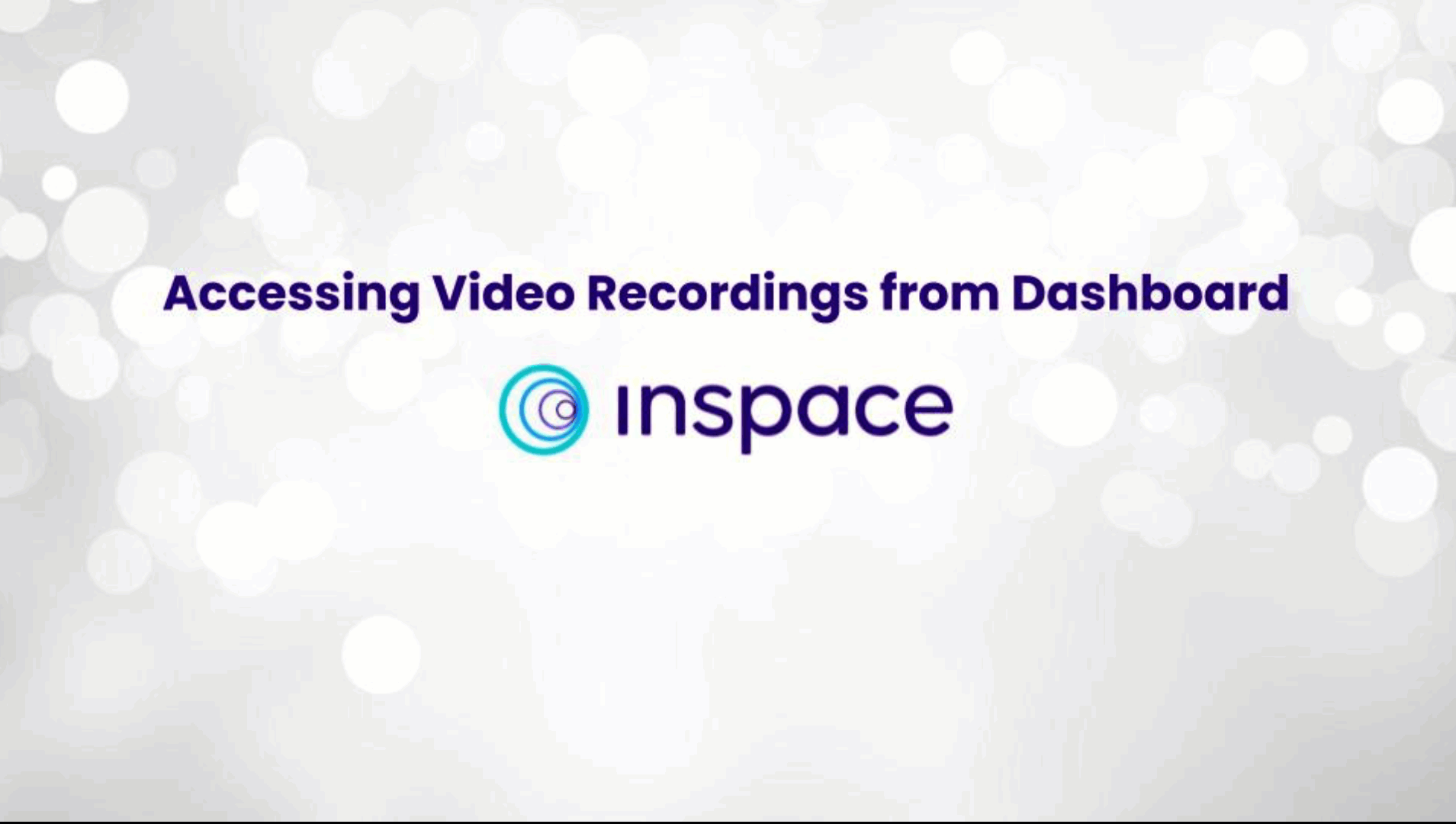 Was this article helpful?
That's Great!
Thank you for your feedback
Sorry! We couldn't be helpful
Thank you for your feedback
Feedback sent
We appreciate your effort and will try to fix the article